This was a fun, heartfelt holiday novel. Not too Christmasy or cheesy but a good heartfelt reminder of what really matters during the holidays and that family will always be family and there for you no matter what.
The Murphy women and their families all transcend to Peachtree Bluff for Thanksgiving and the festivities to follow, as tradition has been since their mother moved there decades ago. This is where the holidays are, and this is home. Although they may seem picture perfect, there is lots going on in their lives and plans don't always go according to how we'd like. The announcement of Hurricane Pearl has just made plans for them whether they like it or not.
Matriarch Ansley thinks this is all hype- it's too late in the season for a hurricane and like hundreds before it- she thinks it will peter out before nearing them. But as mother nature has proven many times over, Pearl is bound to make landfall and so evacuations go into order. But Ansley isn't worried they have other plans and as with all others before- damage and buildings can always be fixed and repaired.
When a family secret slips out, evacuation plans turn into a missing teenager search, and time is running out to get out of Peachtree Bluff. Those left on the island are franticly searching for the missing teenager with Ansley and Jack realizing that they will also be weathering the storm at this point, they no longer will have time to get out.
Hurricane Pearl has stuck to her guns and did make landfall. With all her fury and wrath she has also brought lessons and treasure. Can the Murphy's, with all their drama, pull together and still make the best of the situation to pull everything together for the town and themselves for the holidays?
Thank you to the author for the free autographed copy that will forever remain on my shelves! I now need to order the other Peachtree novels, I'd like to read more about the Murphy's and their stories.
~ Goodreads About the Author ~
Kristy Woodson Harvey is the bestselling author of DEAR CAROLINA, LIES AND OTHER ACTS OF LOVE, SLIGHTLY SOUTH OF SIMPLE, THE SECRET TO SOUTHERN CHARM and THE SOUTHERN SIDE OF PARADISE. Kristy is the winner of the Lucy Bramlette Patterson Award for Excellence in Creative Writing, a finalist for the Southern Book Prize, her work has been optioned for film and her books have received numerous accolades including:
Southern Living's Most Anticipated Beach Reads
Southern Living's Best Spring Break Reads
Southern Independent Bookseller Association's Okra Pick
Parade's Big Fiction Reads Every Book Club Will Love
Entertainment Weekly's Spring Reading Picks
Us Weekly's Sweet Reads for Right Now
Woman's WorldBest Books
PopSugar's Ultimate Summer Reading
USA Today Happy Ever After's Best Women's Fiction
New York Live's "Ashley's A-List"
Deep South Magazine's Summer Reading List
Raleigh News & Observer's "The Best Reads of Summer"
Charlotte Observer's "Summer's Best Books"
Bustle's Books to Read and Discuss With Your Mom and Grandma
Huffington Post's Summer Reading: Women's Fiction Style

She blogs with her mom Beth Woodson on Design Chic about how creating a beautiful home can be the catalyst for creating a beautiful life. Design Chic is the inaugural member of the design blogger hall of fame, sponsored by Traditional Home, and winner of Amara's Best Luxury Blog, as chosen by Roberto Cavalli. She also loves connecting with readers on kristywoodsonharvey.com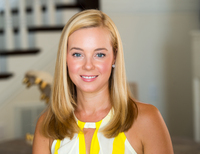 Harvey is a Phi Beta Kappa, summa cum laude graduate of the University of North Carolina at Chapel Hill's school of journalism and holds a master's in English from East Carolina University, with a concentration in multicultural and transnational literature. Her writing has appeared in numerous publications and websites, including Southern Living, Traditional Home, Parade, USA Today, Domino, Our State and O. Henry. She has been seen in Today.com, Women's Health,The Washington Post, US News and World Report, The Huffington Post,Marie Claire's The Fix, Woman's World, Readers' Digest, Bustle, New York Live and North Carolina Bookwatch, among others.
She is a proud member of the Tall Poppy Writers, serves on the board of Beaufort Historical Association, and is a member of the University of North Carolina's Women's Leadership Council. She is a frequent speaker at fundraisers, book conferences and private events. She lives in North Carolina with her husband and seven-year-old son where she is working on her next novel.